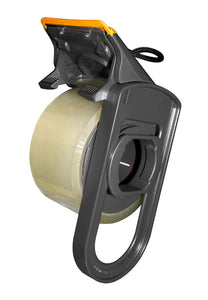 What is Tape Dispenser?
Learn more at 
https://mightylinetape.com/products/tape-tearer-dispenser-universal-tape-dispenser
Tape dispensers are designed for quick and hassle-free application of tapes on various packaging, masking, and varied surfaces. The universal tape dispenser is designed for the convenient application of various 2 inch wide tapes for the ever-changing needs of the customers. It can cut through most types of packaging tapes and gives a very clean finish. Dispensers give a very perfect and convenient cut-off and help the customer apply the tape more systematically and neatly.
What benefits does Mighty Line Tape Dispenser provide? Let us see some benefits of Mighty Line safety floor tapes.
Mighty Line Tape Dispensers are durable and cost-effective and come for various tape widths.
The dispenser can be used to dispense many tapes like vinyl tape, floor tapes, anti-slip tapes, gaffers tape, duct tape, and many others.
It can be used everywhere in packaging, floors and stairways or walls where people need to stick instructions and can be used for quick and easy tape application.
It has a cutter and helps not to lose the edge of the tape.
It can handle various tapes up to 2 inches wide tapes.
It can be used for heavy-duty work.
It has an adjustable spool that keeps the tape near the cutter and helps to dispense large rolls.
It has a hassle-free performance and usage.
It is long-lasting and maintenance-free.