5S Floor Marking Corners and Angles - Items tagged as "Half angle"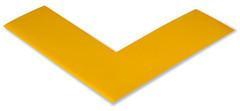 5S Floor Tape Half Angles from Mighty Line Tape
If you are looking to create perfect corners for the lines of your facility, our floor tape half angles are your solution. They can be used on their own to indicate hazards in a workplace or combined to show where objects should be placed in a facility.
Mighty Line Tape has floor tape half angles to maintain organization and safety in your facility while providing nonverbal instruction for good communication. Be sure to check out the advantages of using our 2" floor marking half angles!
Our Collection of Floor Marking Half Angles
Maintaining 5S systems in your facility means creating and sustaining efficient and effective work areas. From reducing unnecessary motion to reducing downtime, our floor tape half angles are great for all facilities. Additionally, they can be found in a wide variety of colors for coordinating based on workflow or job. Our 2" floor marking half angles are offered in the following colors:
Orange
Yellow
Red
Blue
Green
Black
Gray
Purple
Brown
White
Our floor marking half angles come in packs of 100, which is convenient for achieving clear and durable floor marking throughout your facility. Additionally, we have other widths of available in other styles of corners, including our 3-inch and 4-inch variations.
Understanding the Benefits of Half-Angle Floor Marking
At
Mighty Line Tape
, our floor tape is a favorite for facilities because it is durable, doesn't leave a residue when removed, and can be bought anywhere in the world. Discover additional benefits of using our floor marking half angles and beyond:
Easy application with our peel-and-stick adhesive
3-year limited warranty
American-made with a patented design
Beveled edges that increase durability through forklift traffic
Popular products are stocked for quick delivery and reduced downtime
Shop Our Website Today!
Whether you are looking to increase safety or optimize your facility's productivity, use our half-angle floor marking tape and other assorted products.
Shop our website or request samples today. We look forward to helping you.