Mighty Line Diagonal, Hazard Floor Tape - Items tagged as "6 inch"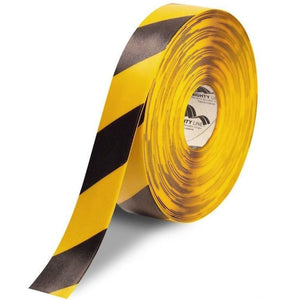 6-Inch Diagonal Tape from Mighty Line Tape
Mighty Line Tape provides durable floor marking tape, floor signs and other accessories for 5S environments. Our long-lasting floor tape is crafted to improve your productivity throughout your operations. Our selection of 6-inch diagonal tape includes:
If you're not sure which 6-inch diagonal floor tape is best for your applications, be sure to request a sample to find the best solution and truly discover the Mighty Line difference.
Benefits of Our 6-Inch Diagonal Floor Tape
At Mighty Line Tape, our 6-inch diagonal floor tape is 7 times thicker than average floor tape and features beveled edges for increased durability. Our tape is also certified anti-static, meaning you can implement it in workplaces with electronic equipment.
We purposely designed our application process for the 6-inch diagonal tape to be quick and simple. With our peel-and-stick adhesive, there is no downtime in your facility and removal is simple, even after years of use. Each of our patented floor tape products is made in the USA and comes a limited 3-year warranty.
Contact Us Today for Our 6-Inch Diagonal Tape
If you're looking for solutions to improve your operations throughout your facility, Mighty Line Tape is here for you. Our 6-inch diagonal floor tape is sold through our wide network of dedicated dealers, both in the USA and internationally. Contact us today for more information about our 6-inch diagonal tape or to request a quote.