Repeating Floor Tape Products - Items tagged as "2 inch"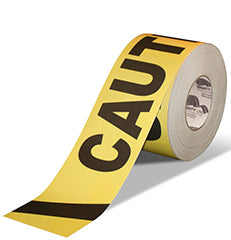 Mighty Line Tape products are the perfect solution for all of your warehouse marking needs. Our repeating message floor tape provides safety, prevents accidents, helps to section off areas, and keeps your facility operating at optimum efficiency.
Choose from our diverse options for repeating floor tape to keep your facilities, employees, and customers secure.
Our Repeating Message Floor Tapes
Our repeating message floor tapes are available with a variety of messages and sizes, with each roll sold in 100-foot lengths and messaging printed repeatedly in black. Select from the following messaging for your repeating floor tape:
"Authorized Personnel Only"
"Caution"
Repeating footprints
Our "Authorized Personnel Only," "Caution" and repeating footprint floor tape options are all available in 2-inch, 3-inch, 4-inch and 6-inch widths. This helps ensure that no matter what the needs are of your facility, you'll find a product suited for your company.
Why Mighty Line Repeating Floor Tape?
Mighty Line products are no average floor tapes. Our repeating message floor tape is 50 MIL thick, about seven times thicker than average, and features beveled edges to provide ease of foot and wheel traffic. We know you need strength and durability from your floor marking products, and we deliver.
Our repeating message floor tape is the most efficient and least damaging way to make sure that your warehouse and business floors are clearly and safely marked, and they won't cause the downtime associated with painting. Application is easy with our simple peel-and-stick design, and when it comes time to remove our tape down the line you'll only have minimal residue.
On top of this, Mighty Line tape offers a 3-year-limited warranty, the longest on the market, and our products are proudly produced in the U.S.
Try Mighty Line Tape Today!
Whether you're in need of Mighty Line floor signs, solid color tape, or repeating floor tape, we can help! Our repeating floor tape is an efficient and cost-effective solution for marking your floors. Contact us today to learn more.