Mighty Line Diagonal, Hazard Floor Tape - Items tagged as "Black and yellow anti slip"
Sorry, there are no products matching your search.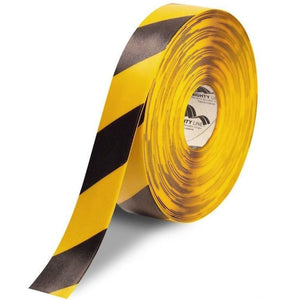 Black and Yellow Anti-Slip Tape from Mighty Line Tape
At Mighty Line Tape, we offer durable and reliable floor tape, floor signs, and 5S marking solutions for your needs. Among our products, we offer black and yellow anti-slip floor tape that is constructed to withstand heavy industrial traffic, foot traffic, forklift traffic, and much more.
Designed to apply seamlessly to your floors, our various floor tape products promote efficiency and safety in any workspace, keeping everything orderly and operations moving.
About Our Black and Yellow Anti-Slip Tape
Our black and yellow traction tape comes in a variety of sizes, such as our 2", 3", 6", and 4" anti-slip tape, and is offered on 60-foot rolls. For more information regarding our anti-slip tape, please visit the individual product pages above.
Request a sample of our black and yellow anti-slip tape today to see how it would incorporate into your operations!
Why Choose Mighty Line Tape for Your Traction Tape
If you are looking for reliable floor tape, such as our 4" anti-slip tape, some of the benefits of shopping with us include, but are not exclusive to, the following:
A simple and effective peel-and-stick application
No residue left over when removing tape
Our tape is made in the United States
Various colors and patterns available
Less expensive and time consuming than painting
50-MIL thickness and beveled edges
On top of all these benefits, our team is dedicated to providing unwavering customer service when you shop with us. To learn more about Mighty Line Tape, as well as the products and services that we offer, please visit our about page.
Contact Mighty Line Tape for Black and Yellow Anti-Slip Tape
Contact Mighty Line Tape if you are looking to improve safety and productivity within your warehouse with our traction tape.
Let our team assist you in finding high-quality and reliable yellow anti-slip tape. We look forward to helping you in any way we can!