Striped Floor Tape from Mighty Line - Items tagged as "4 inch"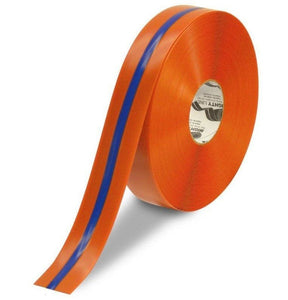 4-Inch Striped Floor Tape
To give our customers true versatility, we supply our patented Mighty Line floor tape with solid color center lines. Our 4-inch striped floor tape products are great for marking safety zones and aisleways, along with any other key areas of your facility. Mighty Line floor tape is great for industrial environments, warehouses, and factories.
About Our 4-Inch Center Line Tape
Our 4-inch striped floor tapes come in a variety of styles to ensure that our customers can find just what they need. Our product offerings include:
All but one of these 4-inch center line tapes are provided in 100-foot rolls to give you plenty to work with in your warehouse, industrial facility, or other workplace. Our other option, the yellow floor tape with a reflective center line, is available in 75-foot rolls and gives you clear visibility for when truck taillights or other light sources are in the vicinity.
Along with our 4-inch center line tapes' ability to organize your facility, our products feature beveled edges to increase durability and better facilitate foot and wheel traffic. They also feature 3-year limited warranties to ensure full customer satisfaction. And with their simple peel-and-stick application, these tapes can be implemented with ease, and won't leave any residue following removal years later.
Contact Us for 4-Inch Center Line Tape
Need center line tape to spruce up your workspace? Contact Mighty Line today and we can find you the best option for your needs!