Mighty Line Diagonal, Hazard Floor Tape - Items tagged as "Green and white"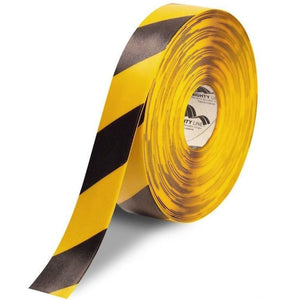 The Best Durable Green and White Tape
At Mighty Line Tape, we carry high-quality safety products to keep your industrial work environments safe and organized. As a leading manufacturer of safety warehouse products, our company understands how important reliable and efficient tools are, and that includes our green and white tape options.
We have a prominent reputation for our durable floor tapes that are used to promote and improve organization, safety and efficiency in industrial spaces. Our floor tapes come in a variety of colors, patterns, and sizes to ensure that your manufacturing areas are productive spaces. They are also 7 times thicker than average floor tapes.
Finding a Tape That Stands Out
If you are in search of a green and white tape that will define your space, we carry various options. Our tape is diagonally striped and comes in both 2- and 4-inch width rolls, by 100 feet in length with 50-mil thickness. The green and white color contrast allows this tape to stand out in large spaces to ensure visibility.
Mighty Line's industrial floor marking tapes also feature a peel-and-stick application, making the tape easy to apply and remove as you like, with no residue. These floor tapes also prove their durability in harsh, industrial environments with their beveled edges and inability to tear, allowing them to withstand machinery, wheel traffic and any floor cleaning practices. Our green and white chevron tape is a great alternative to floor paint because it is easy to apply, strong, and even has a 3-year limited warranty.
Mighty Line's warehouse tape with green and white stripes offers a visually appealing touch to a large warehouse space that needs organization, and our tape products are designed to provide multiple advantages to your workspace. We are here to improve the safety of your space, with ease.
Contact Us for Green and White Tape
If you're looking for tape with green and white stripes, we've got you covered. And if you're not sure which safety tape is best for your space, you can request a sample of our products to try first.
For more information on Mighty Line products, contact our team today!