Mighty Line Diagonal, Hazard Floor Tape - Items tagged as "Black-and-yellow"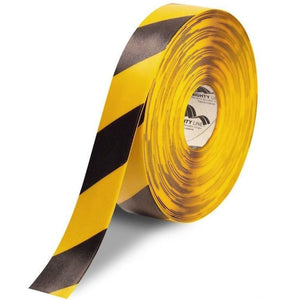 Mighty Line Safety Black and Yellow Tape
At Mighty Line Tape, we can supply companies with diverse options when it comes to floor marking tape, and that includes our line of black and yellow safety tapes.

Under the 5S Color Code system, black and yellow diagonal tape is utilized to classify:
Areas with potential bodily and health hazards, which can include spaces containing flammable or combustive material containers
Areas with chemical-based products or materials utilized with machinery
Using this black and yellow tape highlights special caution being needed for workers who enter, operate within, and exit these spaces. It is also the ideal tape for enforcing a "look both ways" rule for a space.
Our Black and Yellow Hazard Tape
All of our floor tapes feature a host of benefits, including:
Peel-and-stick adhesive backing which leaves no residue on removal
50 mil thickness
Beveled edges to allow for ease of wheel traffic
Faster to install than painted lines
Durable and able to withstand industrial brush scrubbers, heavy wheel traffic, and more
3-year warranties
Mighty Line can supply numerous black and yellow floor tape varieties, including:

We also supply other options for black and yellow tape, including:
Additionally, beyond our black and yellow diagonal tape, we have a wide variety of floor tapes in diverse colors, along with floor signs, safety products, social distancing and COVID-19 signs, and custom options.
Customize Your Own Floor Tape
Not only do we offer black and yellow safety tape, but customers also have the option of designing their own tape here at Mighty Line! Our custom floor tape products are printed with the best quality equipment to ensure premium designs every time.
You can add your own text, graphics, and company logo on our floor tape. We offer industrial floor tape sizes that include 2", 3", 4", and 6" widths. We also have circle, triangle, square, rectangle, diamond, or octagon floor sign shapes available.
If the black and yellow hazard tape is not best suited for you, be sure to check out our site and consider our custom upload form. If you have any questions about how to prepare your artwork, please feel free to contact us.
Additional Products Available
Along with the black and yellow floor tape we offer, we also supply a variety of essential other products such as:
Tape dispensers
Custom floor signs
5S floor markings
Absorbent floor mats
Rack protection
Location markers
Much more
Need Black and Yellow Safety Tape? Reach Out!
Contact our team today
if you have any questions about our black and yellow diagonal tape or any of our other fine products. We look forward to helping you!