Mighty Line Diagonal, Hazard Floor Tape - Items tagged as "3 inch"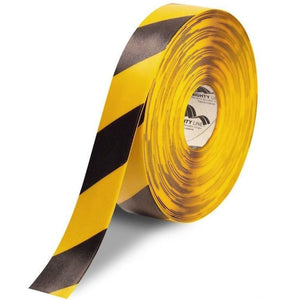 3-Inch Diagonal Tape from Mighty Line Tape
Mighty Line Tape is proud to offer the most durable floor marking tape in the market. Our tape is designed to be easily applied while also being able to withstand harsh warehouse activity. Our selection of 3-inch diagonal tape includes:
Improve your warehouse's productivity by easily applying Mighty Line Tape. Stop painting and start taping with Mighty Line's 3-inch diagonal floor tape!
Advantages of Our 3-Inch Diagonal Tape
Once you have installed your new, durable 3-inch diagonal tape, you will be able to experience the Mighty Line difference. The increased durability due to the tapes' beveled edges is what allows us to stand out against competitors. Another plus to implementing our tape is that it is certified anti-static, which means that you can implement it in areas with electronics equipment.
Mighty Line's 3-inch diagonal floor tape is also seven times thicker than the average floor tape. In addition to the advantages previously mentioned, our tape is manufactured in the USA and we offer the longest warranty on the market.
Contact Mighty Line Today for 3-Inch Diagonal Floor Tape
If you're ready to improve your workplace and get everything orderly, contact Mighty Line today! Our team is ready to assist you with all of your tape needs.
In addition to our 3-inch diagonal floor tape options, check out our catalog to see all of the products we have to improve your workplace. From solid color floor tape to striped floor tape and more, we have the tape that you're searching for.