Mighty Line Diagonal, Hazard Floor Tape - Items tagged as "4 inch"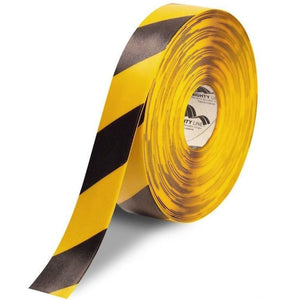 4-Inch Diagonal Floor Tape
When it comes to productivity, keeping all spaces in your facility safe is of chief importance, as any accidents or injuries can lead to downtime, delays, and complications with getting products finished and out the door.
To facilitate a safe environment for your workers and any guests, we're happy to provide a wide array of reliable floor tapes, including our 4-inch diagonal tape. These tapes come in a variety of color options to let you adhere to the 5S Color Code system and maintain an orderly workplace.
About Our 4-Inch Diagonal Tape
Our 4-inch diagonal floor tape offerings include:
All but one of these 4-inch diagonal floor tapes are provided in 100-foot rolls to give customers plenty of material to work with in their facilities. Our other option, the yellow and black anti-slip tape, is available in 60-foot rolls and provides a rougher surface that creates more friction to prevent accidents.
Each of our tapes can help you adhere to the 5S Color Code system. Some of the color designations of the system are as follows:
Black and yellow – Used for areas with physical and health hazards, including flammable and combustive materials, chemical products, and heavy machinery
Black and white – Used for areas meant to be kept clear for operational needs
Red and white – Used for areas intended to remain clear for safety reasons, including eyewash stations, safety showers, first aid cabinets, and more
Our other 4-inch diagonal floor tapes could be used to correspond with their given colors in the 5S Color Code system, or could be utilized as part of your facility's overall branding, giving you a uniform look.
Along with our 4-inch diagonal tapes' ability to organize your facility, our products feature beveled edges to increase durability and better facilitate foot and wheel traffic. They also are supplied with 3-year limited warranties to ensure full customer satisfaction. Plus, with their peel-and-stick application, our tapes can be put into place with ease, and won't leave any residue following removal years later.
Contact Us for 4-Inch Diagonal Tape
Need diagonal tape to keep everything safe and orderly? Contact Mighty Line today and we can find you the best option for your needs!