Home
→
Mighty Line Diagonal, Hazard Floor Tape
Mighty Line Diagonal, Hazard Floor Tape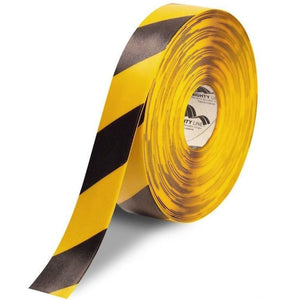 Our Premium Hazard Floor Tape for Facilities
At Mighty Line Tape, we are industry leaders in supplying the best products when it comes to diagonal floor tape for safety. Our tapes come in a variety of sizes and colors so you can find something that fits your unique needs while still adhering to 5S Color Code standards. 
Read on to learn more about our diagonal floor tapes and all they can provide for your operations!
Mighty Line Diagonal Hazard Floor Tape
The patented Mighty Line diagonal floor tape is the most durable diagonal tape on the market. Our diagonal floor tape is great for marking off caution zones, hazards, and other extra dangerous areas in your facility or warehouse. Also, our diagonal floor marking tape is ideal for warning any visitors to your facility that they are approaching a hazardous area and to proceed with caution.
Our Options
As you can see above on our two product pages, the hazard floor tape we supply comes in a variety of options. We offer 2-inch, 3-inch, 4-inch, and 6-inch variations of our tape, so depending on your needs and the spacing in the area you are working with, you can get the right tape for the job.
Also, in terms of colors our diagonal floor tapes are available as:
Yellow with black chevrons
White with black chevrons
White with red chevrons
White with blue chevrons
White with green chevrons
Yellow with magenta chevrons
We additionally supply a number of anti-slip tapes in yellow with black chevrons in 2-inch, 3-inch, 4-inch, and 6-inch varieties.
How to Apply Mighty Line Hazard Floor Tape
Read instructions below to increase longevity of Mighty Line floor marking
When applying our tapes, make sure the floors are clean, dry, and above 50 degrees Fahrenheit. We recommend using a degreaser or denatured alcohol to clean the floors first before application.
Our easy peel-and-stick tapes make application incredibly simple and intuitive, but to speed everything up for you we also offer applicators and related products.
Benefits of Mighty Line Hazard Diagonal Floor Tape
50-MIL thickness with beveled edges

Peel-and-stick application that leaves behind minimal residue

Mighty Line floor marking tape products are great for industrial facilities

ShieldMark the mfg of Mighty Line introduced

 

beveled edges in 2002
Mighty Line is great for 5s facilities 
A wide variety of sizes and colors available for purchase
3-year limited warranty
Quick and easy application as well as long-lasting durability 
Products made in the USA
Make sure to read how to apply Mighty Line below
 To learn more about how our products can benefit your workplace, check out some of our customer reviews. 
If you're looking for other options of floor tape, like solid color tapes, striped floor tape, repeating messaging tape, and more, view our varied products at our top drop-down menu.
Have a Question About Diagonal Tapes? Reach Out to Us
Feel free to contact our team. We'll be happy to help!