Mighty Line Diagonal, Hazard Floor Tape - Items tagged as "Black and white"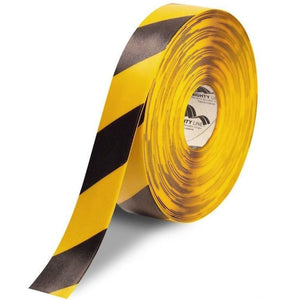 Black and White Tape from Mighty Line Tape
At Mighty Line Tape, we understand the importance of maintaining a safe, productive, and functional workplace for your employees. For that reason, our team is dedicated to providing the strongest floor marking tape and assorted safety solutions on the market.
When it comes to warehouses, 5S lean manufacturing areas, distribution centers, and other industrial work environments, our floor tapes and safety products provide the optimal solutions for your operation needs.
Interested in black and white diagonal tape for your facility? Check out our Mighty Line Tape Collection!
Our Black and White Safety Tape Collection
Mighty Line Tape provides a range of black and white tape options, available in different sizes for your application needs. Backed by a three-year limited warranty, our floor marking tapes are designed for long-lasting reliability. Take a look at the black and white diagonal tape variations we carry:
Each of our black and white hazard tape options feature a variety of benefits to deliver added value to your facility. Our tapes are equipped with a peel-and-stick application that allows for easy and fast installation with no residue left behind upon removal. Built for durability, our products also feature a beveled edge to withstand forklifts, truck traffic, and even the harshest industrial conditions.
Additional Safety Products for Your Facility
In addition to our black and white tape and other floor marking tape options, Mighty Line Tape also offers a wide range of products to promote a safe, organized, and efficient workplace.
Some of the essential safety products we provide include:
For a complete look at the assorted safety solutions we offer, download our catalog today.
Contact Us Today to Start Improving Your Workplace Safety with Our Black and White Hazard Tape
Interested in increasing the safety and efficiency in your industrial work environment? Our black and white safety tape is the solution for you. Contact Mighty Line Tape today to learn more about our collection.