5S Floor Marking Corners and Angles - Items tagged as "2 inch"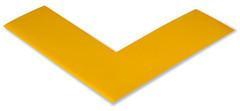 2" Floor Tape Angles
At Mighty Line Tape, we provide a large supply of floor tape, floor signs, and 5S markings to help make your facility more organized and efficient. Our extensive product line of adhesives includes 2" floor tape angles in a variety of colors to choose from.
Ready to start clearly distinguishing work and storage areas in your warehouses with 2-inch floor marking angles? If so, learn more about our selection of tape angles today.
About Our 2-Inch Floor Marking Angles
Our high-quality, 2-inch floor tape angles are designed to withstand both heavy foot and forklift traffic. Once applied, your marking angles should also last for up to three years on your facility's floors.
Mighty Line's 2-inch floor tape angles are available in the following colors:
Additionally, some of the benefits of purchasing your 2-inch floor marking angles from Mighty Line Tape include:
A 3-year limited warranty on our entire product line
An easy peel-and-stick application that will leave no residue once removed
2" floor marking angles that feature 50-MIL thickness and beveled edges
Products that are made in the United States
An unwavering customer support team ready to answer any questions that may arise
Visit the individual product pages for more information on our different 2-inch floor marking angles.
Contact Mighty Line Tape for 2-Inch Floor Tape Angles
Create a safe industrial facility with our 2" floor tape angles today. Start your order with us or reach out to our team with any questions that you may have regarding our 2" floor marking angles. We look forward to assisting you!