5S Floor Marking Corners and Angles - Items tagged as "3 inch"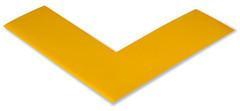 3'' Floor Tape Angles
Mighty Line Tape carries a variety of floor marking tapes and floor signs. Not only do our products improve the overall flow of work, but utilizing floor tape, such as our 3-inch floor tape angles, can improve safety and prevent traffic jams through large, crowded facilities.
Our 3" Floor Marking Angles Collection
At Mighty Line Tape, we supply a wide color range of 3-inch floor marking angles. If your facility would benefit from improved safety and organization, our marking tapes are the solutions for you.
Our line of colored 3" floor marking angles includes:
Yellow
White
Black
Black and yellow striped
Orange
Blue
Red
Green
Red and white striped
Black and white striped
Purple
Gray
Brown
Our floor marking angles can also be purchased in a variety of widths. If you are unsure of which of our options is the best fit for your workplace, request a sample product today to find out what works for you. Our team will help find you the perfect color and size to suit your workplace's needs.
Benefits of Using Our 3-Inch Floor Tape Angles
Our 3" floor tape angles are dependable and cost-efficient and especially easy to apply, clean, and replace. Each of our products is designed to provide many added advantages to your facility. Among the many workplaces that rely on our tape are schools, airports, hospitals, warehouses, retail stores, and more! Check out the benefits of our 3" floor marking angles below:
Easy to install
Widths available include 2-inch, 3-inch, and 4-inch
Beveled edges for ease of traffic flow
3-year limited warranty
Thickness equivalent to two credit cards
Less expensive and time-consuming than painting
Tapes manufactured in the USA
How to Apply Our 3" Floor Tape Angles
To ensure a proper bond when applying 3" floor marking angles, clean and dry your floor thoroughly, and then simply peel the liner off and apply. Unlike painting, utilizing 3" floor tape angles requires no downtime.
Shop Online for 3-Inch Floor Marking Angles or Contact Us to Learn More
Our 3" floor tape angles are intended to create a better work environment for your business and employees. Using floor tape and 5S floor signs is a tried-and-true organizational tactic and can help facilitate the flow of traffic in your warehouse or workspace.
Reach out today to place your order or to learn more about our variety of floor marking products!