Home
→
5S Floor Marking Corners and Angles
5S Floor Marking Corners and Angles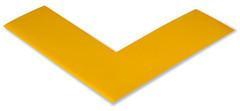 Premium Floor Marking Corners from Mighty Line
Mighty Line 5S floor marking angles are great for marking off pallets and machinery, and for keeping your facility safe and organized. Whether you work in the industrial sector, manufacturing, the supply chain, or anything else, 5S floor marking angles and corners can help you mark and line your facility to keep everything orderly and stop accidents before they occur. Try Mighty Line's floor tape angles today!
How to Apply Mighty Line Floor Tape Angles
Ensure that the floor you are working with is clean, dry, and above 50 degrees Fahrenheit. Then, simply take the tape and utilize its peel-and-stick functionality to get it ready to firmly affix it to your floor. You're all set!
Benefits of Using of Floor Tape Corners and Angles
When you choose Mighty Line, you gain the advantage of working with an industry leader that knows the industrial tape field inside and out. Our floor marking corners and angles have a wide variety of benefits, including:
Our floor tape angles and corners are thick and tough, and the special Mighty Line formula helps resist abrasion
The peel-and-stick adhesive on our 5S floor marking angles and corners leaves no residue when removed, so you can change the workflow area quickly and easily
Mighty Line floor tape is 50 mil thick and features beveled edges 
Our tape withstands industrial brush scrubbers, forklifts, and heavy-duty wheel truck traffic
You won't have any of the downtime associated with paint
Mighty Line floor tape angles are patented and proudly made in the USA
Mighty Line has the leading Manufacturers limited 3-year warranty
HS Tariff Code: 3919102055
Additionally, we supply tapes in widths of 2, 3, and 4 inches. Along with this, our color options for floor tape corners and angles are varied as well, as we feature:
Yellow
White
Orange
Blue
Red
Green
Black
Brown
Gray
Purple
Yellow and black
Black and white
Red and green
White and red
Need Floor Marking Corners? Choose Mighty Line!
Ready to improve your facility with 5S floor marking corners and angles? Choose from our options above or reach out to us with any questions! We look forward to speaking with you.