Mighty Line Diagonal, Hazard Floor Tape - Items tagged as "2 inch"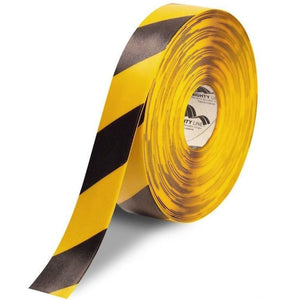 2-Inch Diagonal Tape from Mighty Line Tape
At Mighty Line Tape, we have the strongest floor tape, floor signs, 5S floor markings, and other floor tape products. Our team understands how important safety is for your facilities, and that's why our floor tape is durable enough to withstand forklifts, foot traffic, industrial scrubbers, and other working conditions.
The 2-inch diagonal floor tape from Mighty Line Tape will help improve productivity with its easy installation, its longevity, and its minimal residue upon removal.
Our 2-Inch Diagonal Floor Tape Solutions
Our diagonal floor tape from Mighty Line Tape is the best solution for your facility. This 2-inch diagonal tape can be used to mark off caution zones, hazardous areas, and various other dangerous spaces in your warehouse.
We have a variety of options for you to choose from, including:
Benefits of Our 2-Inch Diagonal Tape
50-MIL thickness with beveled edges
Minimal residue left behind with our peel-and-stick application
Works great for 5S facilities
Variety of sizes and colors available for purchase
3-year limited warranty
Quick and easy application with long-lasting durability
Products are made in the USA
Learn more about how our products can help your workplace through our customer reviews.
Contact Us Today for 2-Inch Diagonal Tape from Mighty Line Tape
Ready to improve your productivity in your workplace? Start with our 2-inch diagonal floor tape today! Contact us with any questions you may have. We are happy to help.