Home
→
Mighty Line Tac, Our Anti-Slip Traction Tape
Mighty Line Tac, Our Anti-Slip Traction Tape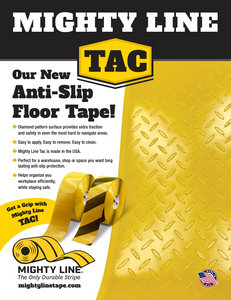 Accidents in the workplace are the source of a lot of problems. Not only do they pose the risk of injury for your employees, but they can result in delays, downtime, loss of efficiency and productivity, and a rethinking of your workspace.
Your best bet is to prevent issues before they arise, and anti-slip traction tape is one way to do just that. Mighty Line's Tac floor traction tape has been designed to create safer working environments and keep your operations running smoothly. Read on to discover all Mighty Line can provide!
Our Premium Floor Traction Tapes
At Mighty Line, we provide diverse products when it comes to safety tape, and one of our specialty products is our anti-slip traction tape, currently supplied in the following varieties:

4" yellow and black diagonal anti-slip traction tape
4" yellow anti-slip traction tape
These tapes, like all of the top-tier products from Mighty Line, feature a number of benefits to ensure that you'll receive the most bang for your buck. These benefits include the following:
100-foot rolls to give you plenty of tape to work with
A diamond pattern and surface for extra traction and safety even in the most hard-to-navigate areas
Beveled edges to provide ease of flow for foot and wheel traffic
Simple peel-and-stick application
Durable construction, with tapes being 7x thicker than the average floor tape
Minimal to no residue left on future removal
3-year limited warranty
These benefits, aside from the diamond pattern and length, are also found with our anti-slip traction tape outside of our Tac line. These tape options include the following:
We also supply a solid color anti-slip floor tape on 60-foot rolls that has width options of 2 inches, 3 inches, 4 inches, or 6 inches, and is offered in black, yellow, or a glowing white.
Beyond Anti-Slip Traction Tape
Whether you work in a factory, warehouse, hospital, or any other 5S environment, floor traction tapes are only a component of having a safe setting for employees and guests.
With this in mind, Mighty Line supplies a wide array of 5S safety products, including:
You can review the diverse colors and sizing options we supply at the links above. No matter what your needs are when it comes to floor traction tape and beyond, Mighty Line has you covered. 
Contact Our Team for Floor Traction Tape Today!
If you're looking for the best in anti-slip traction tape and other 5S safety products, Mighty Line Tape is your resource. Reach out to us with any questions or to place an order. We're ready to help!